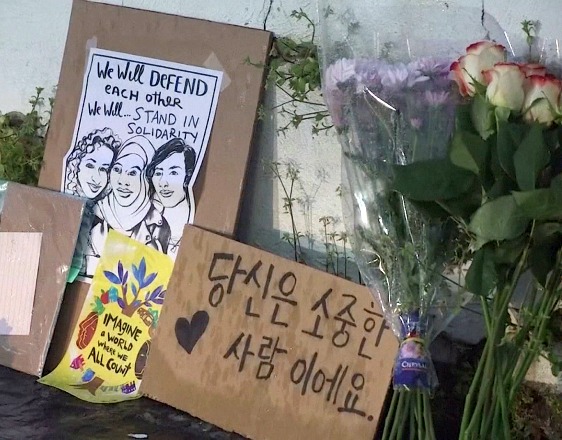 On March 16, 2021, a white gunman murdered eight woman at three spa and massage businesses in the Atlanta area. Six of those killed were Asian/Asian American (text below from the New York Times):
Soon C. Park: Ms. Park, 74, who worked at Gold Spa, was the oldest person killed on Tuesday. She lived in New York before moving to Atlanta.
Hyun J. Grant: Ms. Grant, who was 51 and a single mother, worked from early morning to late at night at Gold Spa to support her two sons who needed college tuition, the rent on the home they shared and their bills.
Suncha Kim: Ms. Kim, 69, worked at Gold Spa.
Yong A. Yue: Ms. Yue, 63, worked at Aramotherapy Spa, and was the last person killed in the shootings. She moved to the U.S. from South Korea in the 1970s with a husband who had been stationed in the Army. The couple had two sons and divorced in 1982.
Xiaojie Tan: Ms. Tan, 49, was the owner of Young's Asian Massage. She made her patrons feel at home and treated her friends like family, a customer said.
Daoyou Feng: Ms. Feng, 44, was one of Ms. Tan's employees who started working at the spa in the past few months.
Delaina Ashley Yaun, 33 and Paul Andre Michels, 54 were the two non-Asian victims. As more details emerge, the gunman claimed that he suffered from "sex addiction" and that he felt compelled to "eliminate" "sexual temptations." At this point, what he says is irrelevant and so is the question of whether sex work occurred at any of the spa and massage businesses that were targeted. What is of utmost importance, is that Asian American women were specifically targeted and murdered. These tragic deaths are the latest example of how Asian Americans have experienced countless incidents of harassment, bullying, verbal assault, and violence since the start of the COVID pandemic, including increased attacks, particularly against elderly Asian Americans who are perceived as foreigners and easy targets, just since the start of 2021.
Beyond highlighting how Asian Americans continue to be seen as the Yellow Peril, or some kind of political, economic, cultural, and/or public threat to U.S. society and specifically to the white population, these murders also specifically illustrate the misogyny and fetishization of Asian American women and how these are fueled by toxic masculinity. Mainstream media and popular culture further racialize and sexualize Asian women, heightening their vulnerabilities to interpersonal and institutional violence. My colleagues Jennifer Ho, Hye-Kyung Kang, and Nancy Wang Yuen have written excellent articles that detail, on the personal and structural levels, the challenges Asian Americans face on an everyday basis that are centered on the intersections of their identity as Asian American women, along with Kimberly Kay Hoang's excellent article about how perceived connections between Asian American women and sex work ramp up suspicions even more and further dehumanizes Asian American women.
In addition to data that shows that hate crimes against Asian Americans have increased 149% from 2019 to 2020 while overall hate crimes declined by 7%, StopAAPIHate data also shows that women report hate incidents 2.3 times more than men. These hateful acts have forced Asians and Asian Americans into a constant state of hyper-awareness and vigilance when they are in public, taking a huge emotional toll. My heart and deepest condolences go out to all those who have been affected by these acts of anti-Asian hate and I join them in collective grief, sadness, and anger. As an Asian American myself, and someone who has both a young Asian American adult daughter and elderly Asian parents, I have never been more afraid than any other time in my life that I, and people who look like me, will encounter some form of racism or xenophobia on a daily basis. It is a really scary time right now to be an Asian American in the U.S.
Where do we go from here? How can we as a society respond? What actions can we take? Here are some ways to support the Asian American community right now. For Asian Americans, we need to come together and recognize that our Asian American identity makes us vulnerable for discrimination. From there, the solution is not to run away or dissociate yourself from being Asian American, try to embrace whiteness and the model minority image as much as possible, and hope that those who have hateful intentions just leave you alone. Instead, we need to unite with each other, recognize our shared experiences and how those experiences make us vulnerable at this particular moment, and to help each other as much as possible — emotionally, physically, and politically. With that in mind, here are some resources to help those affected by anti-Asian hate.
For our political, community, and institutional leaders, they need to take our concerns and demands for equality and justice seriously, rather than systematically ignoring us, continuing to blame us for the pandemic or any number of other social problems taking place right now, and/or focus on trying to humanize the perpetrators of hate and violence against us (for example, by saying that the Atlanta killer "was having a bad day"). And for the rest of U.S. society, the first thing they should do is to become active bystanders and to challenge the everyday forms of anti-Asian hate that take place around them, from biased and offensive comments in one-on-one conversations, to acts of microaggression in the workplace as another example, to incidents of violence in public spaces. Other ways to respond and steps that people can take are:
Support Asian American Studies programs at universities around the country, such as those listed here
Support academic associations such as the Association for Asian American Studies and the Association for Asian Studies, and read journals such as the Journal of Asian American Studies, Amerasia Journal, AAPI Nexus, Asian American Literary Review, Verge: Studies in Global Asias, and the Asian American Policy Review
Support efforts to incorporate more material about Asian American history and experiences into K-12 curriculums
Read Asian American books, such as these lists at SocialJusticeBooks, Vox, and Esquire
The time for talk is long past. We need a commitment to change the status quo and we need concrete, meaningful actions.