By Lydia V. Solis
The Philippine Heritage
Institute International, a Foundation, will celebrate its 30th Anniversary
on October 12, at the Great Wolf Lodge in Garden Grove, Calif.
In
observance of Filipino American Heritage Month, PHII will hold a Recognition
Ceremony and Dinner Dance presenting the White House Millennium Council Awards:
21st Annual Tribute to Outstanding Filipino American Nurses; 13th Annual
President's Award: 'Profiles in Service, Pillars of Community'; and 3rd Founder's
Award. All awardees are selected not only for their academic excellence and
professional achievements, but also for their volunteerism.
The
Philippine Heritage Institute International was nine years old, an established
non-profit entity focused on the advancement of Filipino Americans through
youth development programs and the promotion of Filipino culture, when then
President Bill Clinton and his wife Hillary came to Los Angeles in January
1998. They created the White House Millennium Council in August 1997, and were
traveling across the country to promote its objectives with the theme: 'Honor
the Past, Imagine the Future."
According
to the late Naomi Palma-Armada, she and five other Filipinos were among those
invited, along with government dignitaries, Hollywood moguls, celebrities and
the mainstream media. The Clintons asked attendees to choose one of "21 Ways to
Commemorate the Millennium."
PHII also hosts a Youth Congress annually.
The forum aims to provide education and increase awareness among
our Filipino youth regarding their role in nation-building, in general,
enabling them to develop talents and skills for leadership. Most of all, it is
to nurture, at an early age, the all-important spirit of volunteerism – that
service to humanity in need is a civic responsibility and is part and parcel of
a purposeful life.

Naomi
selected the Millennium Recognition Awards and reported back to former Senator
Hillary Clinton about the first White House Millennium, "Tribute to Twenty
Outstanding Filipino American Nurses," held October 1999, at LA's Bonaventure
Hotel.
PHII
President Josie E. De Jesus was one of the first nurse awardees.
Naomi
chose the nurses "for their hands-on above and beyond compassionate service and
volunteerism as well as their sheer numbers in the Healthcare workplace."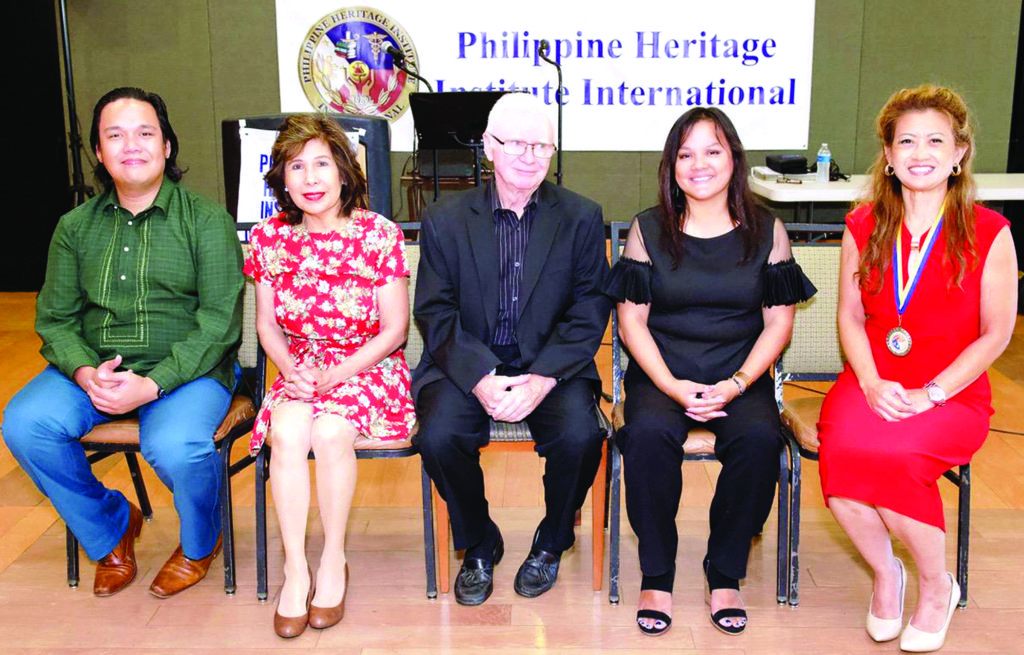 In 2007,
Naomi created another offshoot of the White House Millennium Council — the
President's Award: 'Profiles in Service, Pillars of Community,' to honor
"exemplary community leaders, whose accomplishments have made them role models,
not only to the Filipino American community but mainstream America as well."
In 2012,
she created the Founder's Award, another White House Millennium Council award,
'Most Outstanding Award in Journalism and Communication.' Philippine News, a
publication established in 1961, was recognized for its invaluable service to
the civic community in general, and the Filipino community in particular.
The
second Founder's Award was bestowed to the Jose P. Rizal Monument Movement in
2014, during PHII's 25th Anniversary, for erecting the only life-sized statue
of the Philippines national hero, in the City of Carson, Calif.
This
year, the Founder's Award will be given to the City of San Fernando, La Union
Association USA. President is Victoria Balcita Neri.
Outstanding
Filipino American Nurse Awardees: Dojo Aguilar, Josefina (Fe) Ngayan Casabar,
Faye Christen, Betsy Cruz, Rochelle Lacuesta Galeon, Evelyn Gonzales
McLaughlin, Joseph Albert Melocoton, Christine Natividad, Catherine Rubio,
Noribel dela Cruz, Dorianne Tillano, Henry Bustos Yaranon, Marietta H. Salcedo,
and Lourdes Garcia.
President's
Awardees: Lanie Berrei, Archerie Calunod, Dr. Nové Deypalan, and Dan Nino.
Founder's
Awardee: San Fernando, La Union Association USA; Victoria Balcita
Neri President.
For more
information, you may contact President Josie de Jesus (714) 272-0300; Executive
Director Anna Lourdes Chickey, M.D. (562) 900-0379; or VP Jojo Armada (909)
606-9285.
No tags for this post.