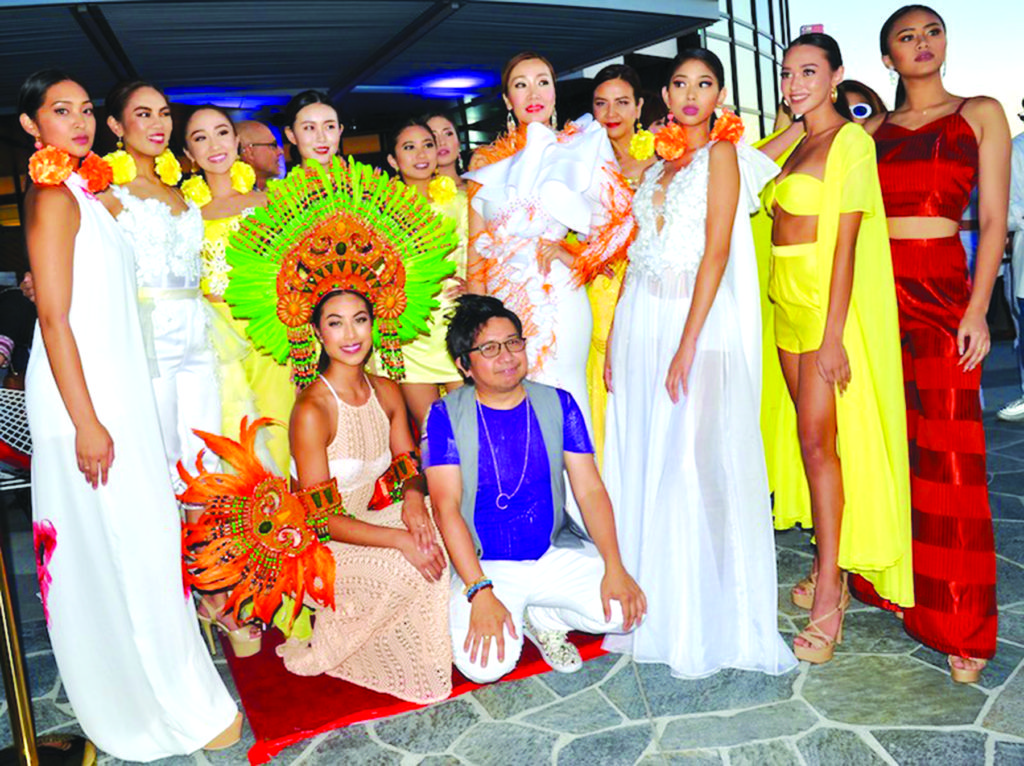 By Abner Galino
An upcoming
Filipino designer just made the "Sun" and the "Moon" rose up the skyline of
downtown Los Angeles recently with his fascinating exposition of summer ready-to-wear
collection.
Carl Andrada's fashion show dubbed as
"Sun and Moon" came up as a part of an event called "All White Summer Night Affair"
put together by the Asian American Real Estate Association of America-Greater
Los Angeles (AAREAA).
Fittingly, Andrada's first venture on ready-to-wear
designs was held at the pool area of the prestigious 36-storey twin towers
known as Circa LA — just across the world famous Staples Center.
Andrada has been known in the
community for his fresh and artful takes on traditional Filipino dress and
costumes.
Marlene Cagatao of AAREA-GLA president
asked Andrada to come up with the summer collection to highlight the
organizations summer mixer party.
"She wanted me to do something
different than what I usually does, so I came up with the idea of a resort or summer
wear that are elegant and chic," Andrada narrated.
As the upcoming designer has been
involved in most of the beauty pageants in Los Angeles, he was able to come up
with an admirable model line up that included: Allison Lorenzo (2018 Mutya
Pilipinas-California), Danielle Viray (Miss Golden State 2019), Dru Mendez
(2018 Continental Miss Teen Philippines America), Lucy Ann Lacdan (3rd
runner up 2019 Miss Filipina International), Alyssa Guevarra (2017 Miss Young
Philippines USA ambassador), Kimi Mugford (Top 5 2018 Miss Multinational beauty
pageant), Jeanine Detorio (Miss Popularity- 2019 Miss Filipina Teen
International), Alyssa Velasco (2019 Mutya Pilipinas finalist), Korina Almavez
(Miss Photogenic 2018 Mutya Pilipinas-California), Reniella Bulatao (2019
Continental Miss Teen Philippines America).
Active AAREA-GLA members joined the
Filipino American beauties in the fashion show. They were named as Quennie
Wong, Sandra Yap and Rita Shih.
Andrada said he took him two months to
complete his "sun and moon" collection.
"The sun gives light and warmth, the
moon changes its color during summer. The sun and the moon both give light,
guide us where to go, in all our travels," Andrada said about his inspiration
for the said project.
The designer thanked the models for
their participation and added that the occasion was an "opportunity for them to
strengthen their portfolios and as well as gain experience and improve their
skills as models."
No tags for this post.