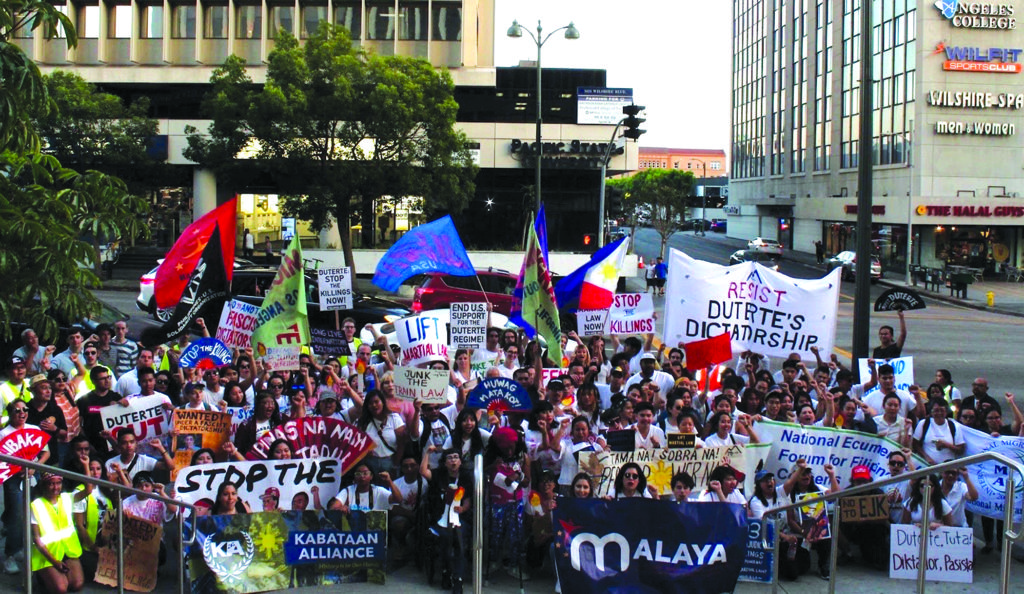 Over 200 protesters, mostly young persons, gathered for the United
People's State of the Nation Rally in front of the Philippine Consulate of Los
Angeles on Monday (July 22).
The
demonstrators were part of thousands of Filipinos and their supporters across
the United States and in other parts of the world who protested to counter
Philippine President Rodrigo Duterte's 4th State of the Nation Address.
In a press
statement, Bayan-USA claimed that the Philippine economy has "plunged deeper
into national debt as Dutertenomics and neoliberal policies such as the TRAIN
law and rice tariffication law which have dominated the lives of everyday
Filipinos left with record high inflation, loss of over 803,000 agricultural
jobs, stagnating wages, and burdensome taxes that increase the wealth of
foreign corporations and the ruling elite in the Philippines."
"These
circumstances force more than 6,000 Filipinos each day to migrate abroad in search
of work while at the same time facing the devaluing of their hard earned
remittances sent back home to the Philippines; remittances are estimated to
have reached an all-time high of $33 billion."
"The recent May
mid-term election resulted in destroying any last semblance of checks and
balances in the Philippine government, with the majority of Senate seats being
taken by Duterte loyalists, while pro-people candidates and their supporters
faced aggressive harassment, vilification, and death squads."
"With all branches of government under Duterte's control, he is hellbent on railroading charter change or "Cha Cha" forward, in an effort to change the 1987 Constitution to eliminate term limits; expand foreign ownership of public utilizes, education institutions, and media outlets; and ultimately pave the way for unlimited martial law powers."
"The human rights situation in the Philippines has become soalarming that Duterte can longer hide the crisis. The pivotal voteof the United Nations Human Rights Council (UNHRC) tolaunch an independent investigation of the human rights issuesin the Philippines sends a message that the internationalcommunity is concerned with the impunity which has reignedunder Duterte."
No tags for this post.