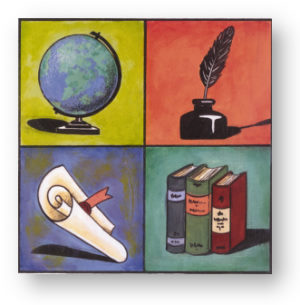 Here are some more announcements, links, and job postings about academic-related jobs, fellowships, and other opportunities for those interested in racial/ethnic/diversity issues, with a particular focus on Asian Americans. As always, the announcements and links are provided for informational purposes and do not necessarily imply an endorsement of the organization or college involved.
Call for Submissions: Intersectionality and Public Policy
Call for chapters for an edited volume on Intersectionality and Public Policy
Olena Hankivsky (Simon Fraser University), and Julia Jordan-Zachery (Providence College)

Intersectionality is concerned with simultaneous intersections between aspects of social difference and identity (e.g., race, gender, class) and forms of systematic oppression (e.g., racism, sexism, classism) at macro and micro levels and their varied impacts. Central theoretical tenets of intersectionality are: human lives cannot be reduced to single characteristics; human experiences cannot be accurately understood by prioritizing any one factor or constellation of factors; social categories such as race/ethnicity, gender, sexuality, and ability are socially constructed and dynamic; social locations are inseparable and shaped by interacting and mutually constituting social processes and power structures that are influenced by time and place.

Grounded in black feminist scholarship and activism (e.g., Collins, 1990; Combahee River Collective, 1977; hooks, 1984) and formally coined in 1989, by black legal scholar Kimberlé Williams Crenshaw, intersectionality has been used across a significant number of disciplines. Diverse scholars have drawn on intersectionality to challenge inequities and promote social justice, as have government policy actors, human rights activists and community organizers. Indeed, while it is easier to simplify research, policy analysis and practice by labeling people into single or separate (e.g., female, male), rather than multiple and interlocking categories (e.g., poor, female immigrant of colour), it is increasingly apparent that this way of utilizing one category is limited in its ability to accurately represent the complexity of social life (Hankivsky et al., 2012). Against this backdrop, intersectionality is now recognized as a significant research and policy paradigm for bringing about necessary shifts in how social issues and related inequities are understood and addressed.

Simultaneously, an ongoing challenge is how to operationalize intersectionality, especially in relation to policy analysis. Until very recently, strong claims were made that effective methodologies do not exist. The situation is, however, rapidly changing. Scholars are advancing conceptual clarity, precision and guidance for intersectionality applications, in both research and policy. Nevertheless, advancements in the context of public policy are in nascent stages (e.g. Lombardo, Meier and Verloo 2009; Manuel 2006; Parken and Young 2010; Hancock 2011; Hankivsky and Cormier 2011; Hankivsky, 2012; Wilson 2013; Jordan-Zachery and Wilson 2014) and there is a pressing need for knowledge development and exchange in relation to empirical work that demonstrates how intersectionality improves public policy.

The goal of our edited collection is bring together international scholars to consider the state of the art of intersectionality in the context of policy research and analysis. Special consideration will be given to submissions from developing and transitional country contexts. We are looking for submissions that reflect on key challenges, possibilities and critiques of intersectionality-informed approaches across a variety of policy sectors, including but not limited to health, education, social policy, the environment, and the economy.

200 word abstracts of your proposed chapter submission are due August 1 2015. Please send your abstracts to BOTH Olena Hankivsky [email protected], and Julia Jordan-Zachery [email protected] All invited authors will be notified by August 31, 2015 and completed chapters will be due by December 1, 2015.
Call for Papers, Graduate Students: Intergenerational Collaborations
Amerasia Journal, Special Issue Call for Papers
Intergenerational Collaborations: Graduate Student Scholarship in Asian American Studies

Guest Editors:
Professor Y?n Lê Espiritu (University of California, San Diego) and Professor Cathy J. Schlund-­?Vials (University of Connecticut)

Publication Date:
Summer/Fall 2016

Due Date:
Paper submissions (6,000 – 7,000 words, inclusive of endnotes) due September 1, 2015

Since finding a permanent publishing home at UCLA's Asian American Studies Center Press in 1971, Amerasia Journal has served as a scholarly hub for Asian American Studies. Slated for publication in Summer/Fall 2016, marking the journal's forty -­? fifth anniversary, this special issue of Amerasia Journal brings together graduate student scholarship and faculty mentorship — two foundational components of the field of Asian American Studies. The issue is innovative in two ways: it is devoted exclusively to graduate student work, and it pairs graduate student authors with senior scholars who will provide guidance during the revision process.

The guest editors will be responsible for selecting the papers to be sent out for review, and for connecting graduate student authors with appropriate senior scholars in the field. Such "intergenerational" collaborations represent an Amerasia "first," and the editors are guided by the desire to increase both access for and representation of graduate students in the field's leading interdisciplinary journal.

As a key frame, the editors in part return to the journal's mission statement, which reflects the founding, revisionary tenets of a field born out of civil rights movements and international liberation struggles. The open nature of this call for submissions — which takes seriously the diversity of Asian American Studies scholarship— echoes the innovative, multidisciplinary work that has been a hallmark of Amerasia Journal. Understanding that Asian American Studies has grown considerably over the past four decades, the editors ask possible contributors to situate their work within and beyond the context of this originating mission and multifaceted vision.

Submission Guidelines and Review Process:

The guest editors, in consultation with the Amerasia Journal editors, reviewers, and potential mentors, will make the decisions on which submissions will be included in the special issue. The review process is as follows:

Initial review of submitted papers by guest editors and Amerasia Journal editorial staff
Papers approved by editors will undergo blind peer review
Accepted projects will be assigned an appropriate mentor, who will work with the writer to develop and revise the submission; this process should begin and go through the last few months of 2015
Revision of accepted papers and final submission for production

Please send correspondence and papers regarding the special issue to the following addresses. All correspondence should refer to "Amerasia Journal Intergenerational Collaborations" in the subject line.

Contacts:
Professor Y?n Lê Espiritu: [email protected]
Professor Cathy J. Schlund-­?Vials: cathy.schlund-­[email protected]
Arnold Pan, Associate Editor, Amerasia Journal: [email protected]
Call for Papers: Cross-Racial and Cross-Ethnic Personal and Group Relationships
A special issue of Societies
Deadline for manuscript submissions: 15 September 2015

Special Issue Editors:
Dr. Silvia Dominguez
Department of Sociology and Anthropology, Northeastern University, Boston, MA 02115, USA
Website: http://www.drsilviadominguez.com/
E-Mail: [email protected]

Dr. Cid Martinez
Department of Sociology, Sacramento Sate University, Sacramento, CA 95819-6005, USA
Website: http://www.csus.edu/soc/department/faculty1/martinez.html
E-Mail: [email protected]
Phone: +916 278 6694

In the face of an increasingly complex society, people seek out and form relations with those whom they feel safe and comfortable and perceive to be similar. As a result, racial and ethnic groups form their own distinct social networks that are separated and isolated from others, limiting information and awareness and the ability to develop consensus to address community problems and promote mobility. Homogenous networks also limit the ability of affluent groups to appreciate and address the social barriers of less fortunate groups. They are thus more likely to reinforce negative views of minorities, and the poor. Frequently, inter-racial/ethnic division is the norm rather than the exception.

In fact, very few people have access and/or opportunity to develop cross-racial, or ethnic relationships due to the long lasting high levels of racial and ethnic segregation. Nevertheless, we know that Asians and Latin Americans have high rates of intermarriage, which signifies the emergence of networks that cross ethnicity and or racial lines. This special issue provides a window into the social mechanisms that foster cross ethnic and cross-racial and ethnic networks. What makes people develop heterogeneous networks across race and ethnicity? What do people gain from these heterogeneous networks?

Submission

Manuscripts should be submitted online at www.mdpi.com by registering and logging in to this website. Once you are registered, click here to go to the submission form. Manuscripts can be submitted until the deadline. Papers will be published continuously (as soon as accepted) and will be listed together on the special issue website. Research articles, review articles as well as communications are invited. For planned papers, a title and short abstract (about 100 words) can be sent to the Editorial Office for announcement on this website.

Submitted manuscripts should not have been published previously, nor be under consideration for publication elsewhere (except conference proceedings papers). All manuscripts are refereed through a peer-review process. A guide for authors and other relevant information for submission of manuscripts is available on the Instructions for Authors page. Societies is an international peer-reviewed Open Access quarterly journal published by MDPI.

Please visit the Instructions for Authors page before submitting a manuscript. The Article Processing Charge (APC) for publication in this open access journal is 300 CHF (Swiss Francs). English correction and/or formatting fees of 250 CHF (Swiss Francs) will be charged in certain cases for those articles accepted for publication that require extensive additional formatting and/or English corrections.
Call for Submissions: Annual Meeting of the Association for Asian American Studies
2016 Calls for Papers: Gateways, Ports and Portals: Re-imagining Points of Departure for Asian American Studies
2016 Association for Asian American Studies Conference
April 27-30, 2016, Miami, Florida

Submissions due by: October 16th, 2015

Co-chairs:
Chris Lee (University of British Columbia) and Crystal Parikh (New York University)

Inspired by the city of Miami's nickname –- "the Gateway to Latin America' -– the 2016 conference asks participants to consider how forms of movement, transit, and exchange have shaped Asian America. If Asian American Studies has been frequently conceived as an intellectual, institutional, and political point of arrival, how would identifying alternative points of departure reconfigure our conceptions of the field? How might relocating origins and destinations not only change our notions of what the field is, and what it might become, but also the "gateways, ports, and portals" that enable our research, teaching, and activism?

Florida is an especially apt site to consider overlapping encounters between empires and other forces of modernity. Its intersecting histories of indigeneity, slavery, labor migrations, and refugee resettlements call for comparative approaches that place Asian American Studies in different continental, hemispheric, and, even planetary configurations. The state has been a key site in overlapping circuits of workers, intellectuals, artists, social movements and capitalist systems, reflecting its close connections to the Atlantic and Caribbean worlds.

In turn, the changing environmental conditions along Florida's coastlines and the Everglades prompt us to look to ecocritical approaches that interrogate "the human" as the primary subject and scale of ethnic studies. As one of the hardest hit housing markets on the U.S. eastern seaboard during the 2008 financial crisis and ensuing recession, the conference location asks us to consider how contemporary forces of finance and speculative capital urgently call for critical, institutional, policy, and activist analyses and responses that question our conceptions of vulnerability, risk, crisis, and recovery.

As a key electoral swing state, Florida further prompts an examination of Asian Americans' role in political contests, coalitions, and consensus-building. While the proportion of its population that identifies as Asian American is relatively small, Miami is a metropolis with remarkable racial diversity. This might inspire us to consider how comparative perspectives can inform and challenge the research and teaching agendas of Asian American Studies.

These questions call for intellectual conversations across the humanities, social, and physical sciences, as well as professional fields such as public policy, law, public health, and education.

Our 2016 conference theme thus invites participants to reflect on how disciplinary gatekeeping and entryways inform, but also restrict, the ways in which we undertake Asian American Studies. What innovative approaches, such as comparative, multilingual and/or interdisciplinary frameworks, has Asian American Studies remitted not only to traditional academic disciplines, but fields such as American, postcolonial, and diaspora studies among others?

How does the growth of Asian American Studies outside the borders of the United States demand a deeper interrogation of the often unacknowledged (US) nationalist biases of the field? We accordingly invite participants from all disciplines to submit proposals that engage seriously with questions and productive possibilities of collaboration and conflict, as we shuttle across the imagined spaces of Asian America.

We welcome scholarship, cultural work, as well as political activist submissions for the 2016 AAAS conference. Proposals for mentorship or professionalization round tables, panels, or workshops are also welcome. All submissions and proposals are due Friday, October 16, 2015. Please note: Participants may only appear in the program twice and only in different roles.

Program Questions? For specific questions regarding type of sessions, submission guidelines, or other programmatic issues, please contact the Program Committee Co-Chairs: Chris Lee ([email protected]) and Crystal Parikh ([email protected]).