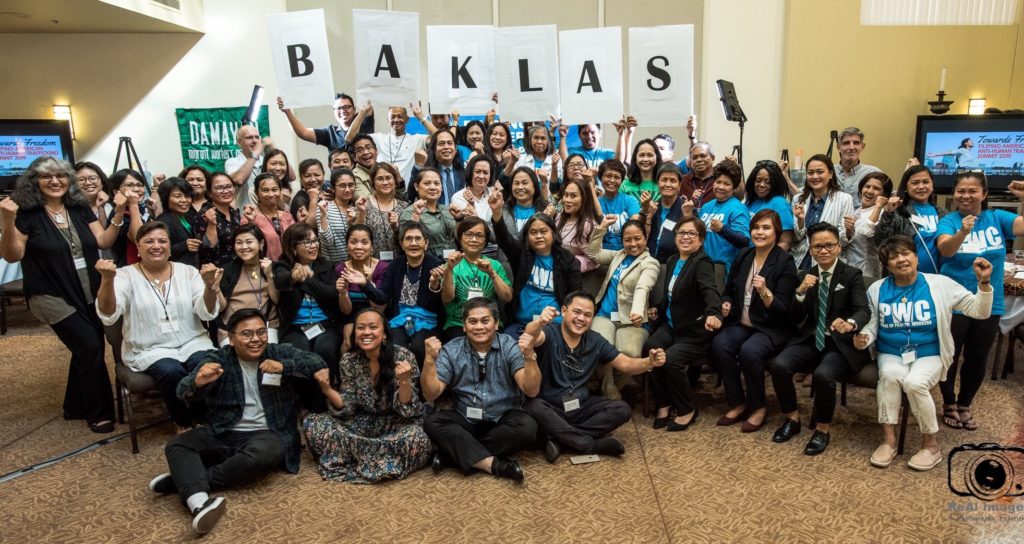 To address the growing number and
crisis of Filipino migrant workers falling prey to labor trafficking in the US,
the Pilipino Workers Center (PWC)
and Damayan Migrant Workers Association
(Damayan) convened Filipino labor trafficking survivors, organizers,
advocates, immigration and employment law attorneys, goverment agencies,
community organizations, and other allies on September 12 and 13, 2019, for the
"Towards Freedom: Filipino American Anti-Human Trafficking Summit 2019".
Held at the St.
Paul Commons Retreat and Recreation Center in Los Angeles, CA, the successful
two-day summit was attended by Filipino labor trafficking survivors and service
providers from eleven states — California, Nevada, Utah, New Mexico, Wyoming,
Florida, Illinois, New York, Washington, D.C., and Hawaii. The event created a
safe space for the survivors to tell their harrowing personal stories and be
inspired and empowered by how each one fought hard and found their way to
freedom.
"How can you
put into words six long years of trauma? It's so hard to describe in half an
hour, what I experienced day in and day out. I knew no one in the US. I did not
have enough money. I would have become homeless had I not received help. I am
grateful to PWC for organizing this summit where we can talk about the
realities of being a survivor and how we can work together to end this vicious
cycle of labor trafficking," said Samuel Cordero, a labor trafficking survivor
from Los Angeles.
The summit
became a deep, educational, and liberating experience for workers and allies,
as well. It featured a diverse and dynamic group of speakers and panelists —
survivors, organizers, immigration attorneys, labor officials, and law
enforcers who shared their work and expertise, insights, analyses, and
strategies to better serve and empower survivors and fight labor trafficking.
Labor
trafficking is a serious crime in which perpetrators recruit or even abduct
individuals to perform labor or services through the use of force, fraud, or
coercion for the purpose of involuntary servitude, debt bondage, peonage, or
slavery.
Common types of
labor trafficking of Filipino migrant workers include domestic workers forced
to work in brutal conditions in homes of diplomats; hospitality workers lured
into working in hotels and theme parks with false promises of full-time work
and overtime pay; students, nurses, teachers, and other professionals deceived
into applying and getting recruited for jobs in the US for the purpose of debt
bondage; factory and farm workers being threatened with violence and forced to
work against their will for irregular, cheap or unpaid labor; and undocumented
caregivers subjected to severe labor exploitation and sexual assault by their
employers.
During the summit, the participants
also discussed how to overcome new hurdles for T visa applicants under the
current political and immigration landscape. The T visa is a type of
humanitarian immigration relief for victims and survivors of human trafficking
to stay and work temporarily in the United States.
Survivors
granted with a T visa can sponsor their children and spouse to come to the US
where they can apply for lawful permanent residency.
PWC and Damayan
shared their strategies in providing critical services and organizing work to
serve and empower survivors.
Damayan talked
about the big picture of labor trafficking – 6,700 Filipinos leave their
homeland everyday due to poverty and unemployment.
The vast
majority are women and most of them become low-wage service workers,
particularly domestic workers, in receiving countries like the US. A great
number of Filipino domestic workers, hotel workers, and teachers, among others,
become victims of labor trafficking.
Participants
also attended healing sessions as well as self-defense workshops all throughout
the summit. The Filipino American Services Group, Inc. (FASGI), together with
their partners organizations facilitated trauma healing workshops and wellness exercises
to promote self-care, mental health, and emotional well-being.
The event also
convened representatives from both US and Philippine government agencies —
Department of State, Department of Labor, the Philippine Overseas Labor Office
(POLO) and Philippine Consulate General – Los Angeles — to engage in deep
dialogue with survivors and advocates on how to find solutions and effectively
collaborate to prevent and fight the labor trafficking of Filipino migrant
workers.
The summit
culminated with the launch of BAKLAS, the nationwide campaign against
the labor trafficking of Filipino migrant workers. Originally Damayan's local
anti-trafficking campaign, BAKLASis now co-led by PWC and Damayan, two
pioneering Filipino organizations fighting to promote immigrants and workers'
rights. BAKLASaims to (1) empower trafficked Filipino workers to break
free from their traffickers; (2) coordinate comprehensive case management work
nationally; (3) develop the national leadership of Filipino labor trafficking
survivors; (4) build a national network of anti-trafficking attorneys,
advocates and social services providers; and, (5) educate and raise the
awareness and support of the larger public to combat labor trafficking and
modern-day slavery.
"With the
formation of BAKLAS national campaign, we aim to up the ante in the fight
against labor trafficking and modern day slavery! We will reach more Filipino
labor trafficking survivors who are still trapped with their traffickers, help
them receive justice through legal advocacy, and develop them into social
justice leaders," said Riya Ortiz, Damayan lead organizer and case manager, and
BAKLAS – NYC coordinator.
Aquilina
Soriano Versoza, executive director at PWC stressed the importance of such
collaboration: "We have always been committed to the fight against labor
trafficking. BAKLAS strengthens this commitment and inspires us to keep
building more capacity and multi-disciplinary relationships to support
anti-trafficking efforts nationwide. Together, we can build on the momentum to
continue to collaborate, enhance our work and coordinate strategies to serve
and advocate for Filipino victims and survivors of labor trafficking."
No tags for this post.